Watts On Sale?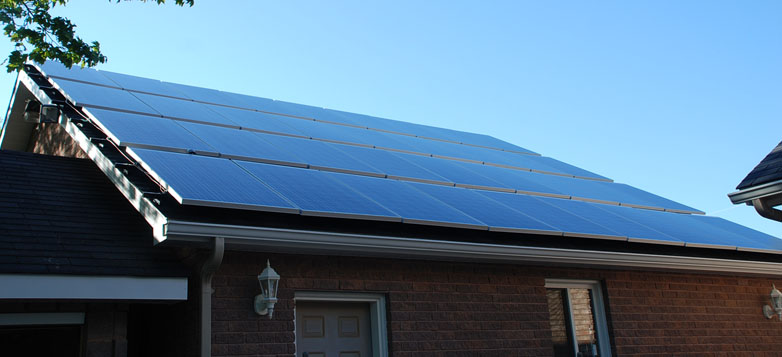 Amazing prices for 250 Watt poly Crystalline PV Panels for microFIT or Net Metering
We can provide great prices on ECLIPSALL, 250 WATT, POLY CRYSTALLINE (25 per pallet) poly crystalline silicon panels, $307.3 or $1.22 a Watt. This price ends after 30 April 2014. These qualify as Ontario content.
The price will be slightly higher if not purchased in multiples of 25. HST and delivery not included.
We can provide Candian Solar 250W POLY CRYSTALLINE panels model CS6P-250P Made in China for an even lower price, call for details. These can be used for microFIT 3.0 and later installations.
Note all the 300W panels that are available with Ontario content are bigger, and DO NOT have any higher area efficiency than these panels. All Ontario qualified panels that produce over 250W have 72 cells instead of 60 cells. The size of 250W panels varies one or 2% by manufacturer. In our statement above, we mean that 250W panels as a group offers the best efficiency of watts output per square meter of panel size. We are not claiming that of all available 250W panels, this is the smallest 250W panel, and therefore the most efficient. Instead this is a typical size for 230 to 250W panels.
NOTE: the microfit 2.0 and later rules only permit a maximum of 10kW STC nameplate rated panels in an installation. This means that no more than 41 panels are permitted using 240W panels, and 40 panels if using 250W panels.
Off Grid Base Cottage System
| | | | |
| --- | --- | --- | --- |
| QTY | Manufacturer  | Item | Cost |
| 1 | Magnum | 2.8 KW, 12 V, MAGNUM E-PANEL, ALUM, WHITE, includes MS2812 Pure sine waver inverter. | |
| 1 | | TEN FOOT, 4/0 CABLE PAIR FOR >2500W | |
| 2 | Kyocera | 140 WATT, KYOCERA SOLAR MODULE (MIN 2) KD140GX-LFS | |
| 1 | | MALE/FEMALE PV WIRE, 10 M, (PR) | |
| 1 | Midnight Solar | COMBINER BOX,  3 x 150 VDC, or 2 x 600 VDC | |
| 1 | | DIN RAIL BREAKER, 15 A, 150 VDC | |
| 1 | Midnight Solar | Midnight Classic 150 MPPT 12V/72V, with DC-GFP + Arc Fault Detector | |
| 2 | Deca | 240 AHR DEEP CYCLE BATTERIES - 6V PSW2200 | |
| 1 | | BATTERY INTECONNECT #4, 10 IN | |
| 1 | Delta | LIGHTNING PROTECTION (AC & DC) ADD-ON | |
| 1 | IronRidge | Uni-Tp/02A for 2 panels up to 55" TOP-OF-POLE MOUNT | |
| 1 | Outback Power Systems | FM60 ADD-ON TO POWEROARDS OR EPANELS | |
| 1 | Magnum | DIGITAL LCD DISPLAY REMOTE W/50 ft CABLE | |
| 2 | Midnight Solar | 300 V SURGE PROTECTOR, DC or AC, (120VAC circuit) MNSPD-300 | |
| | | | $6,714.64 |
| | | Shipping, without lift gate delivery | $132.00 |
| | | HST | $890.06 |
| | | | |
| | | Total  | $7,736.70 |
This is a base system that can be expanded smoothly to provide extra capacity by adding panels and more 12V batteries in parallel. This system is for a very small electrical load, for very frugal living. The last three items are optional, for remote monitoring within the house, and for extra protection against surges on the AC load circuit. This system delivers a high quality pure sine wave power, that is suitable for computers, TVs and all picky electrical appliances. The 280W panel capacity is the minimum size that could provide power to a habitation. This is capable of generating on a sunny day about 8% the capacity of a average modern Ontario grid connected home that uses about 24000W per day. Normally an off-grid house system is designed to run for four days without sun, on a fully charged battery. Therefore this system would deliver about 2% of the power used by an average home.
What is missing?
These prices are for parts only, and do not include installation.
A good quality generator is essential for long battery life, to recharge the battery after they have become discharged and there is no sun available to provide a charge, due to night time, or an extended period of cloudy days. If batteries are not immediately recharged, they will start to sulphate, which shortens their lifetime. The best generators for off grid use are propane powered, and are designed for unattended automatic starting. The budget gasoline powered generators that you see at the local hardware stores are not recommended, and can't protect the batteries when unattended, since they require manual starting. They could only be used when the building is constantly habitated, and someone is ready to get up in the middle of the night, and start the generator when the battery voltage drops to the minimum permitted value.
An automatic generator start module is not included in the inverter, it is an extra module that can be added (ME-AGS-S Stand Alone).
A fan to ventilate the batteries when they are charging. THis is requird for Flodded Lead Acid batteries, but not for sealed AGM or Gel Lead Acid batteries.
Other Limitations
This only supplies 120V AC, and not 120/240 split phase that is used in hydro connected houses. Therefore only 120VAC appliances can be used. (Some types of submersible water pumps that run on 240V)
Caution About Bargain Priced 12V Solar Systems
There are temporary systems that are sold at well know Canadian retailers which seem to cost much less for this amount of power. These are made in China, are not CSA approved, and have the following issues. They do not deliver utility grade sine wave power, (they deliver Modified Sine Wave power) and they can't be expanded to add more panels and batteries, as they have very limited electronics components. They use panels designed to charge 12V batteries. The charge controller won't work with the 230-250W 60 cell panels that are very attractively priced for microfit systems. They also would not pass an ESA inspection, due to the none CSA approved panels, wiring and electronics. They also don't have any mounting hardware to securely mount the solar panels. They are intended for temporary use at a hunt camp or a tenting trip, not for permanent use.