Off Grid example BOM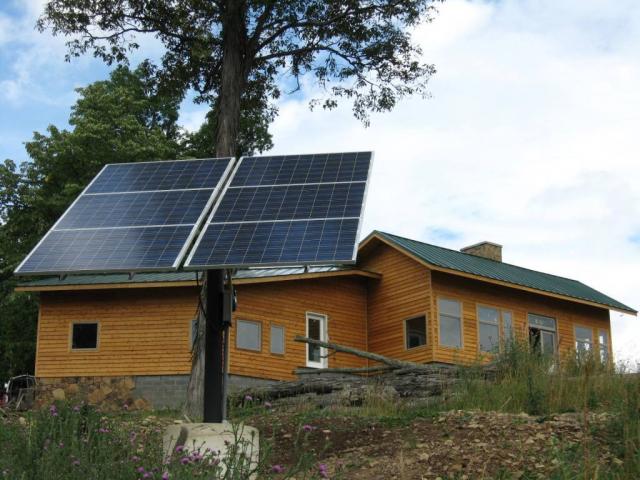 What Might An Off-grid System Cost
This is a list of materials and a cost without installation for a 4 kWh panel system. This is provided for a guideline only, and each customer's needs are different and each house is a custom design.
This example package is for the following application:
Insulated home or cottage used year round, power required 24/7 even when unoccupied
Rooftop mounted, roof with asphalt shingles, roof trusses 24" centers, underside of roof is accessible
located on an un shaded roof facing due south
Roof slope 3/12 pitch or greater
4kWh of solar panels (16)
460AH 48Volt flooded lead acid battery
4 day without sunshine power rating 4.4 kWh per day, 5 day rating 3.5 kWh per day, with discharge depth = 80%
120/240VAC so standard house wiring techniques can be used. If an inverter fails you still have some power. See our off-grid FAQ page for more detail on this topic.
Propane powered automatic start backup generator
Made in China solar panels by Canadian Solar, identical to panels made in Ontario by the same company. This is the world's #2 manufacturer
Code compliant design.
Uses 2 panels in series, to avoid the Ontario requirement for Arc Fault Protection for Solar panels mounted on a building.
QTY
Manufacturer 
Item
Cost

6

MULTI-CONTACT
MALE/FEMALE PV WIRE, 6 M, (PAIR) 10 ga

2

MULTI-CONTACT
MALE/FEMALE PV WIRE, 10 M, (PAIR) 10 ga

12

Iron Ridge
51-7000-108A, XRS rail 108", anodized clear

1

Iron Ridge
29-4000-099, XRS endcap (20 pieces)

8

Iron Ridge
XRS splice kit 29-7000-010

2

Iron Ridge
END CLAMP FOR 42 - 44 MM MODULES (4) 29-7000-171

7

Iron Ridge
MID CLAMP FOR 40 - 44 MM MODULES (4) 29-7000-101

7

Iron Ridge
L-FEET, INCL. HARDWARE (4), mill finish 29-7000-017

1

Iron Ridge
Wire management clips (bag of 30) 29-4000-006 for Iron Ridge

1

Iron Ridge
WEEB DMC-CLIP (20 PCS ) 29-4000-001

1

Iron Ridge
WEEB grounding Lug (5) 29-4000-002 use 1 per rail segment

2

Iron Ridge
Wiley bonding jumper (5) 29-4000-3 use 1 per splice

16

Canadian Solar
Canadian Solar 250W 60C Poly PV module, CS6P-250P Made in China

50

4" stainless steel lag bolt, 5/15 diam

50

3.5" stainless steel lag bolt, 5/16 diam

1

MIDNITE SOLAR
MNPV12 COMBINER BOX, fits  12 x 150 VD mini-DIN breakers, or 10 x 600 VDC 3R rainproof enclosure

8

Midnight Solar
10A 150 VDC breakers, DIN Rail MNEPV10

8

Sealcon Inc
1/2 NPT 2 hole liquid tight strain relief, for PV wires into combiner

1

Sealcon Inc
1/2 NPT solid plug liquid tight strain relief, for ground wire into combiner. Drill own hole

1

Delta
Lightning arrestor for DC combiner LA302DC

1

Outback
Flexmate 80 MPPT CHARGE CONTROLLER – 80 AMP 12, 24, 48, 60 VDC BATTERY - 150 VOC MAX PV ARRAY (COLD

1

Outback
E-Panel Add-on Flexmate 80 MPPT CHARGE CONTROLLER – 80 AMP 12, 24, 48, 60 VDC BATTERY - 150 VOC MAX PV ARRAY (COLD

1

Outback
7.2 kW FLEXPowerTWO, 2 x VFX3648  (FP2-10) 48VDC 120/240VAC

1

Outback
HUB-4, COMMUNICATION MANAGER, ADD-ON

5

Outback
CAT 5.E CABLE  3 FOOT / 1 METER 300 VOLT RATED

1

Outback
CAT 5.E CABLE  6 FOOT / 2 METER 300 VOLT RATED

1

Outback
Mate SYSTEM CONTROLLER  with RS-232 PC interface—WHITE—OVAL CASE

1

Outback
FLEXPowerTWO DC circuit breaker for Fan, 1A OBB-1-150VDC120VAC-PNL

1

Magnum
35mm DIN Rail mounting rail, for relays, 1m

2

Omron
Relay 12VDC 126ma coil for Ventilator, 220VDC MKS1XT-10DC12

1

Omron
Relay socket for MKS-X, front facing, screw terminal, DIN rail or surface

1

Zephyr
BATTERY BOX VENTILATOR, SPECIFY 48 V 85.8209  6W  2" PVC socket inlet, 3" outlet.

8

Surrette
Battery S-460 six volt, capacity of 460 amp Hrs. @100 Hr

1

Surrette
HYDROMETER

1

Quickcable
Acid spill absorber & neutralizer 1 gal 510130-001

2

Quickcable
Battery tray 120220-001 33" x 15"

6

Quickcable
Battery interconnect cable 2/0  16", 5/16 stud. 7920-001H

1

Quickcable
Battery interconnect cables 25", 5/16 stud.7925-001H

1

Quickcable
#2 crimp lugs #2 wire, 5/16 stud 6401-005E bag of 5

1

Quickcable
25' #2, Black. Battery to inverter cable  unterminated,  200104-025

1

Generac
EcoGen Series 5818 6 kW Generator with 120VAC output Propane. 3 yr/1500hr

1

Generac
EcoGen Series 240VAC conversion kit 006016-1

1

Thermo Cube
Thermo Cube TC-1 115VAC themostat, 0F turn on, 10F turn off.

1

Temro
Battery warmer  Temro, 50W 120VAC 28" long.

1

Generic
Starter battery for generator (group 26R Wet Cell Battery) for Generac

1

Delta
Lightning arrestor for AC generator LA302R

15

TECK90 6-3 cable from generator to FP-2 AC enclosure (meters)

15

NMD90 14-2 110VAC circuit to power generator cold start kit, batter charger, battery warmer

15

18 AWG 2 wire cable, colour coded, for remote start

1

Installation labour

1

Shipping, with liftgate delivery (estimate only)
$394.96

1

HST
$2,955.71

1

Total 
$25,691.93
For your convenience, the previous table is available in an Excel spreadsheet version for downloading.
Determining the peak and average daily electrical load
Click here to download a PDF file with a sample load analysis.
The Excel spread sheet used in this example is available upon request. There are a number of useful observations that can be made about this particular home.
First some background. The house is near Kingston, and is a newly constructed house. It has one adult and one child as the only fully time occupants. This is a year round home. It uses propane is the primary heating fuel, and uses radiant hot water heating and hot water from an instantaneous condensing propane hot water heater.
If you examine the per day column to look for the highest amounts, these are the items that drive the cost of the system. Here are my comments on each of these items.
Deep well pump. This one shows a high flow rate, and thus a relative short running time. If the well is very deep or is very far away the flow rate into the pressure tank will be lower, and the pump will run for a proportionally longer period each day, increasing the load. This calculation used an Ontario average urban water use of 274 L per person. In the winter you will not be watering the garden.
Heating.The energy efficiency of the house determines how long per day the heating system must run, and thus the run time of fans, pumps, that comprise the heating system. A less efficient house will have a longer run time, and consume more electricity even though the heating fuel is not electricity.
Refrigerator. Even though a modest sized fridge was selected by the owner, and it was selected on the basis of its energy star rating of 337 kWh/year, this translates into about 1/4 of the total load. Put another way, 1/4 of the solar panels are dedicated to the refrigerator. A propane fridge would significantly reduce the daily electrical load.
Dryer. An electric dryer is out of the question. This model uses an electric motor to rotate the drum, with an efficient motor, and the heat source is propane. Many natural gas dryers have a factory kit to convert them to propane, and there is a lot of choice for suitable dryers.
The generator's cold start kit does not seem to draw very much power, but having it on 24 hours a day in cold weather still adds up to nearly a kW, or nearly 1/4 of the total load. This is a major concern. I suggest using an extra controller circuit to only turn this on when the battery is approaching the voltage at which the generator needs to start. This is similar to plugging in a car's block heater into a timer set to turn on only 4 hours before you need the car to start, instead of having plugged in all night. In warmer temperatures the heater does not turn on at all.
The satellite receiver uses 7.4W when turned on, and 7.0W when on standby. Thus with 3 hours a day of TV, the satellite receiver has a daily load more than the TV. The satellite receiver could be unplugged when not in use, but then it would need a few minutes to reload your subscription data before it is ready to work.
The column to the left of the tick marks is another calculation to determine if the inverters have enough capacity to handle all the big loads that might possibly come on at the same time. Some appliances such as motors take a lot more power for a fraction of a second as they start. For this calulation this is the most important number, not the stady state load. The well pump is an example of such a load. A portable skill saw is another. The tick mark is for items that switch off and on by themselves, or may be normally turned on. The unchecked items are ones that use a lot of power, but you turn them on manually, and you can choose to only use one of these at a time. In this example it is reasonable to have 2419 watts plus one of the occasional loads, such as the worst case 1500W for the hair dryer. Thus if the inverter can handle 3919 watts or more, then the inverter should never be overloaded, and shut itself down to protect itself.