FIT Projects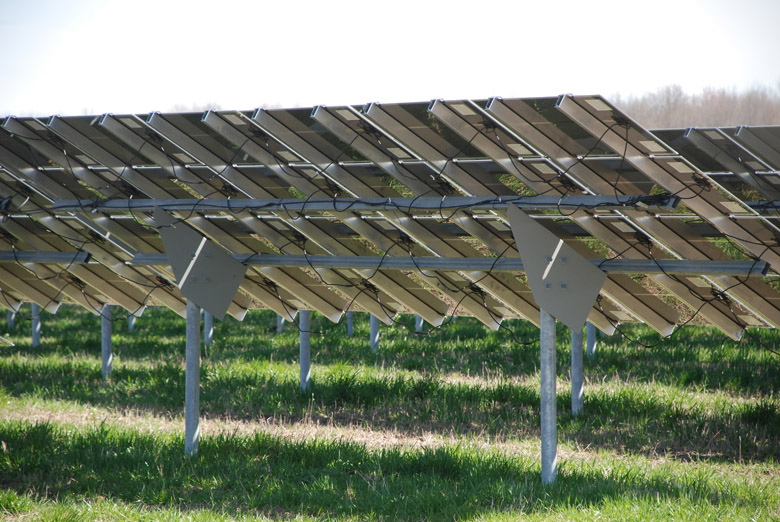 FIT Projects
These are projects greater than 10 kW nameplate capacity. The picture above is a tiny part of a 25MWatt installation at Galletta, near Arnprior.
The application process is more complex than microFIT, and takes considerably longer.

| Solar PV Price for PV | FIT |
| --- | --- |
| Rooftop ≤ 100 kW | 34.5 |
| Rooftop > 100 ≤ 500 kW | 32.9 |
| Ground Mounted ≤ 500 kW | 28.8 |
The FIT program also permits leasing your land or rooftop to others to install PV systems. This is no longer permitted for microFIT projects. FIT programs are the only way to participate by leasing.
There are many reasons to participate. The vast majority of FIT projects are on commercial rooftops, over 90% of approved applications according to OPA figures for 2011. However most people think of large scale solar farms with ground mounted panels when they picture a FIT installation. There are a number of reasons that the majority of FIT applications are for rooftop installations:
The price paid for the electricity is higher
No Renewable Energy Assessment is required, so the application is less expensive, and has less steps and so is completed in less time, with a lot less uncertainty.
The cost of the racking equipment is lower than for most ground mounted installations
The rooftop installation requires less labour and proceeds faster.
There are no new buildings or trailers required to house inverters and switching gear, lowering costs. Usually these are located inside the building.
Many rooftops are under 500kW and so may benefit from being CAE projects and so are offered the ability to connect to the grid much faster.
In urban areas there are more usable rooftops than suitable open areas without shade.
These all can be summarized that rooftop PV costs less to install, is approved quicker and omits the overhead of impact assessment studies and their attendant costs.
The time frame from initial application to project completion is many times longer than microFIT, and this is due mostly to the application and paperwork side, not due to construction speeds.
Methods to make money under the FIT program.
Install and operate a PV system on your own land or rooftop.
Lease land or a rooftop from someone else and install and operate a PV system on it.
Your rooftop may be leased to a solar company, and you receive rental payments. This may or may not include a profit sharing agreement with the solar company.
Profit from your roof by a lease to own arrangement with a solar company, which builds and operates the solar components and maintains them until the rent which is equivalent to lease payments has paid for the system and provided a return for the solar company. Then the balance of the revenue until the end of the 20 year contract is yours. Initially you receive small annual payments as income, but the majority of the lease equivalent goes towards paying down the system ownership costs.
School boards and other public institutions recently have made contracts with solar companies to put on new roofs and to maintain those roofs for 20 years in exchange for permitting the solar companies to put a solar installation of the roof. This is very attractive to schools with aging buildings that need extensive repairs or replacement. The school boards get they benefit they seek up front, without any capitol expense, and the solar company pays all the solar capitol costs up front as well as the roof replacement costs.
Just as the rooftop is more attractive for the owner, it also is understandable that the majority of companies that wish to lease space for PV or offer lease to own projects are interested in rooftop installations and not in ground mounted systems.
As outlined on our services page, we can provide consulting services to get you started with a FIT installation. We start with a site analysis and assess the feasibility of your site. Then we explain the FIT process, and that steps that you will be required to take that are specific to your site. Later on we can consult in the design of the installation and with sourcing the solar equipment. We can also help you select a developer, (a company that builds the system to your specification) so you are ready to start work once approval have been granted) or to hire or train in-house staff to implement the project.
A lot more information about FIT can be found on the OPA website for FIT.